A guide to lighting outdoor subjects
The flash unit is a very sophisticated device, yet very valuable to the outdoor photographer. Sometimes nature just does not provide the best light and using flash can improve it.
Whether you need flash in combination with the natural light or need to create light where there isn't any, this book covers it all.
The Nikon SB900 and Canon 580EXII are covered in great detail from the LCD to the buttons so you will understand what they all mean.
You will learn how to apply flash for specific results in both intensity and quality. But even more valuable is how to create light that tells stories. Something that is important to outdoor and adventure photographers.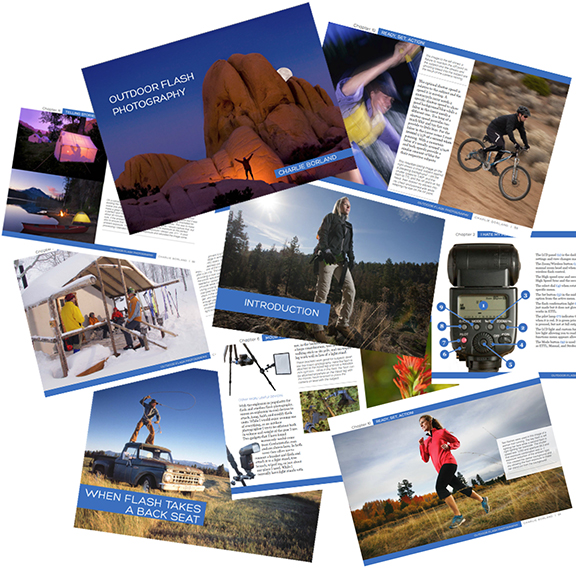 If you have a flash to accompany your DSLR and overwhelmed by all the options, this eBook will set you on the right path.
1- The perfect guide to understanding of all the features and function of a flash
2- Learn what good light looks like
3- Learn how to create the light you really want
4- Designed for all photographers with an emphasis on outdoor and adventure
photography
5- Techniques on using light to tell stories
6- Over 100 pages, 25,000+ words and 150+ photos
---
Regular Price: $6.99
The 5 Day Deal price is 20% OFF ($5.59)
Click BUY NOW for immediate download  
Outdoor Flash Photography w/Printable Pocket Guide


Reg. Price $7.99
The 5 Day Deal price is 20% OFF ($6.39)
Click BUY NOW for immediate download  
---
 testimonials-
"Your book is very complete and thorough and beautifully illustrated. It even inspired me to bring my flash along the other day when I wanted to take some photos of people biking on one of our local bike trails. Turns out it was a good thing because the trail was very shady and where it wasn't dark, it had contrasty dappled light. The photos with the fill flash turned out so well that the editor of a local monthly magazine may be using one or two of them in an issue." -Fran G.
"Charlie, your Outdoor Flash Photography ebook is really great.  I bought it off iTunes late last week and read it over the weekend.  I don't take people pictures, so much of what I had read previously about flash dealt with inside buildings or studios.  Thinking I was carrying around something I didn't need – which really meant I didn't know how to use it – I sold my 580 EX & STE-2 (that I had purchase 7 years ago to use at my daughter's wedding – didn't know how to use it then either) and went for a few years without a flash. Then I read your book, which opened up new ideas for me to consider.  I placed an order for the Canon 600RT and STE-3 controller.  Two things that really stood out right away – one was the image of the flash located behind the trees, shooting toward the individual in an overcast flat light environment.  The other was the small clamp you showed that you use (I was not looking forward to carrying an additional tripod, and had not come up with a better way).  I did pick up many other tips, but those two, for me were like "wow, I have to do this".  Thanks, Drake
Hi Charlie
Just wanted to say i bought your e book..because i used to hate flash.
Having had your book, and after your advice bought two Yongnuo manual flashes..
I now love flash!!  Love it!

I have really been experimenting with fill in, different powers angles bounce etc etc
Now…i can actually now can get the photos i see in my eye..so now i can take the photos i create in my head first!
Brilliant.

I have a lot of personal stuff going on..( i won't bore you) but i still will do the real estate course with the assignments,  a little later, once work and life have settled!! 🙂 
I took this tonight with my best mate 🙂 against a sunset on the beach. Thanks again Charlie, for reigniting my passion.
Best regards
Steve in perth west australia