Back light in nature and landscape photography is very effective lighting technique. When a subject is back lit the sun is in front of you or very close. I like to reference the Lighting Clock as example.
The camera is at 6 o'clock and the subject is in the middle of the clock. If the light is to either side, then it is at approximately 9 or 3 o'clock. I generally think of back light as anywhere between 10:30 and 1:30.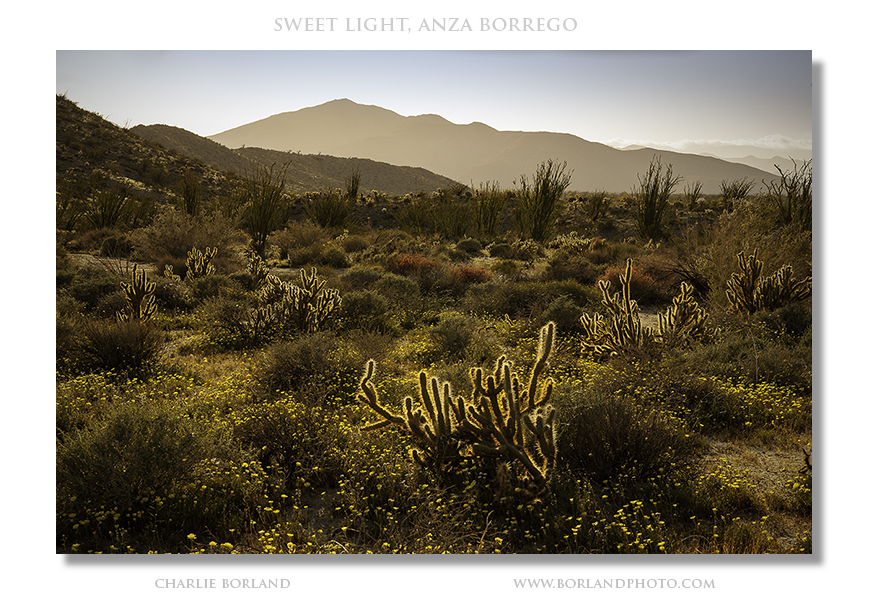 In this example from the Anza Borrego in CA, the sun is in that zone of 10-12 o'clock. What I love about this photo is that back lighting adds amazing definition to the cactus and especially the Chollas. It looks like fuzz. This approach works on many subjects, even ones that dont look so great side lit.
For processing I added a hint of contrast to make the shadows touch darker, a bit of saturation, and the sky went white which is common in back lit images due to haze and such. So I added a touch of blue back in. Then sharpened a hint as well.
Join my mail list with the signup form on the right. Get my ebook at the top, and find my amazing online photography courses by clicking any link on the right.