Years ago, I taught a workshop in Grand Staircase Escalante NM and when we were done I headed north on Hwy 24 over Boulder Mountain. It was fall and the Dixie NF has some great fall color all over the mountains here.
I was doing the 'pedal to the metal' after the workshop as I had places to get to, but when I saw this my first thought was WOW! As I drove past I thought I should stop ASAP even though I wasn't really expecting to do any shooting. That thought passed in about 4 seconds and I spun the car around at my first opportunity.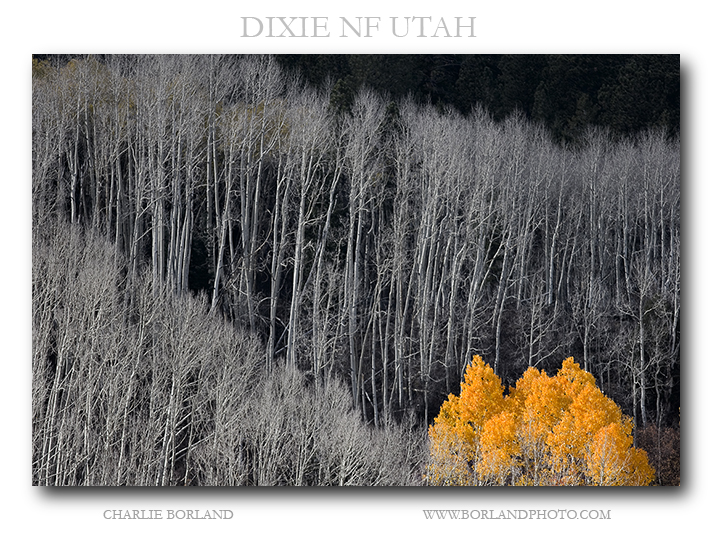 I added the 70-200mm lens to my camera and literally walked to the other side of the road and zoomed in on this gully and hillside. I zoomed in and out with all my compositions revolving around this clump of color. That is what amazed me: all the color was gone on the hillside except this little group of trees.
Were they holding out, trying to hang on before the cold winter arrived or waiting for me to discover them? Whatever, right? Either way, this was amazing to me. This lone group in full color with what looks like every leave still on the tree.
I was 'happy snappin.'
In processing I decided to add a B&W adjustment layer and pull what little color there was in the naked aspens and leave all the color in the larger tree. Sorta 1/2 B&W and 1/2 color and I think that really says how it looked.
Check out my online courses and ebook on the right sidebar.