This month I am thrilled, of course, to have a feature article in Outdoor Photographer magazine. It is my second lengthy article in the last year and while I am proud to be published, I thought I would address the idea of writing as an outdoor and nature photographer.
Professional photography is challenging as far as making a living and for many photographers, there is some truth to something I often say: "all money is good money." While this may not be the same reasoning for all photographers, many are on the constant lookout for new revenue streams.
In my online course:  How to Be a Professional Outdoor and Nature Photographer, I mention in one lecture that writing can be a excellent gateway to more profitable ventures. What does that mean?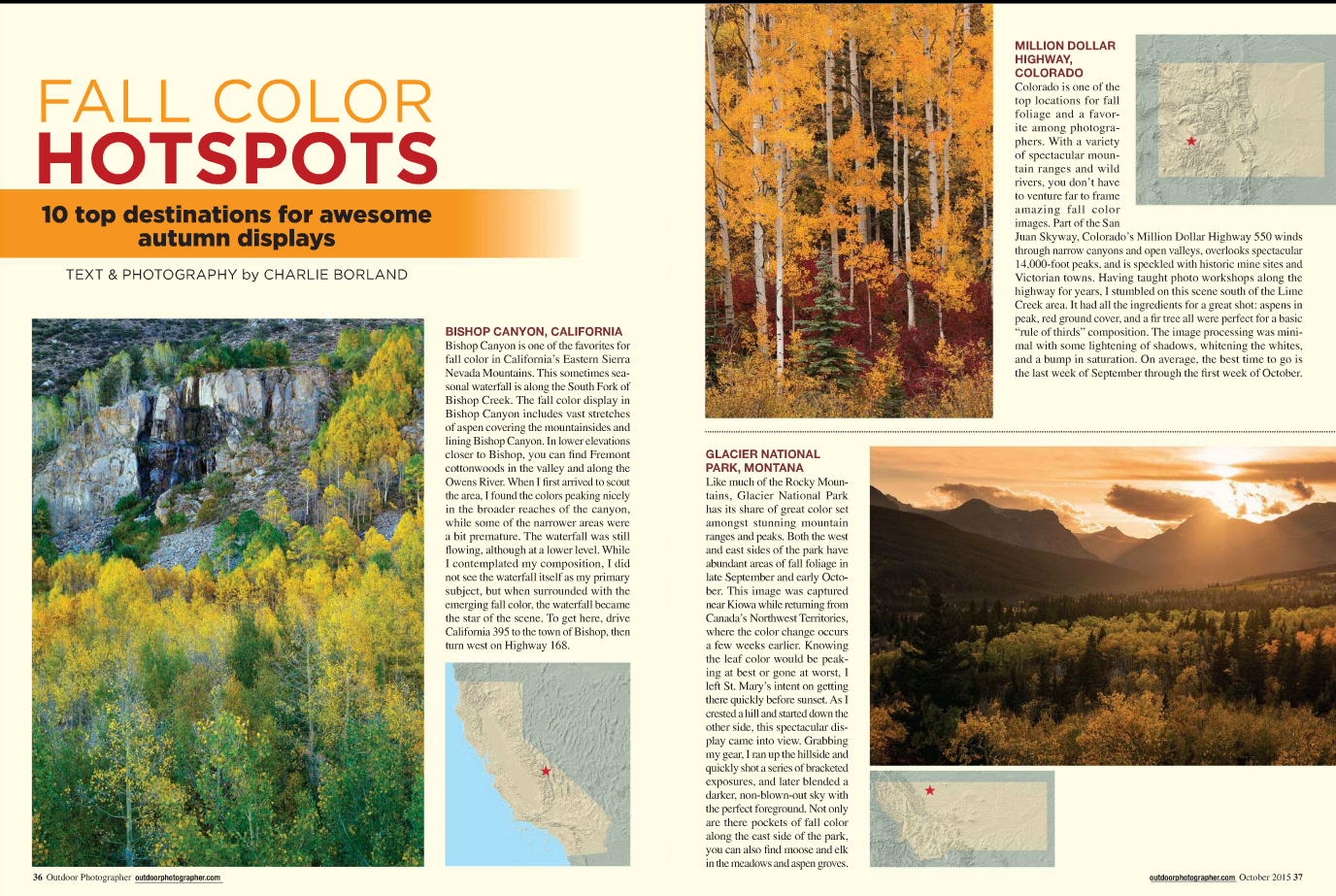 The Idea
Think about this: many magazines buy single images for the publication and maybe it is a lot or just a few, meaning not every publication has a need for stock images. Every magazine DOES need editorial contributions in the form of written text and usually photos. So is there an area of expertise that you have in any subject, that you passionately photograph and with a bit of effort, you could write about it? Writing and getting published is only the first step. If you can write and get published consistently you can build solid name recognition and a dedicated following in many ways.
More than one outdoor and nature photographer, that has written for magazines regularly, eventually builds a solid following who take their workshops, buy books, and want to learn from them. Unlike social media, there is a captive audience waiting for the next issue of the magazine and which can be more worthwhile than a solid blog or social posting. Many outdoor photographers who contribute regularly to editorial publications become attractive to book publishers who want access to their following. If they see you widely published and doing good work, you are a natural fit for helping sell a book that they want to publish with you.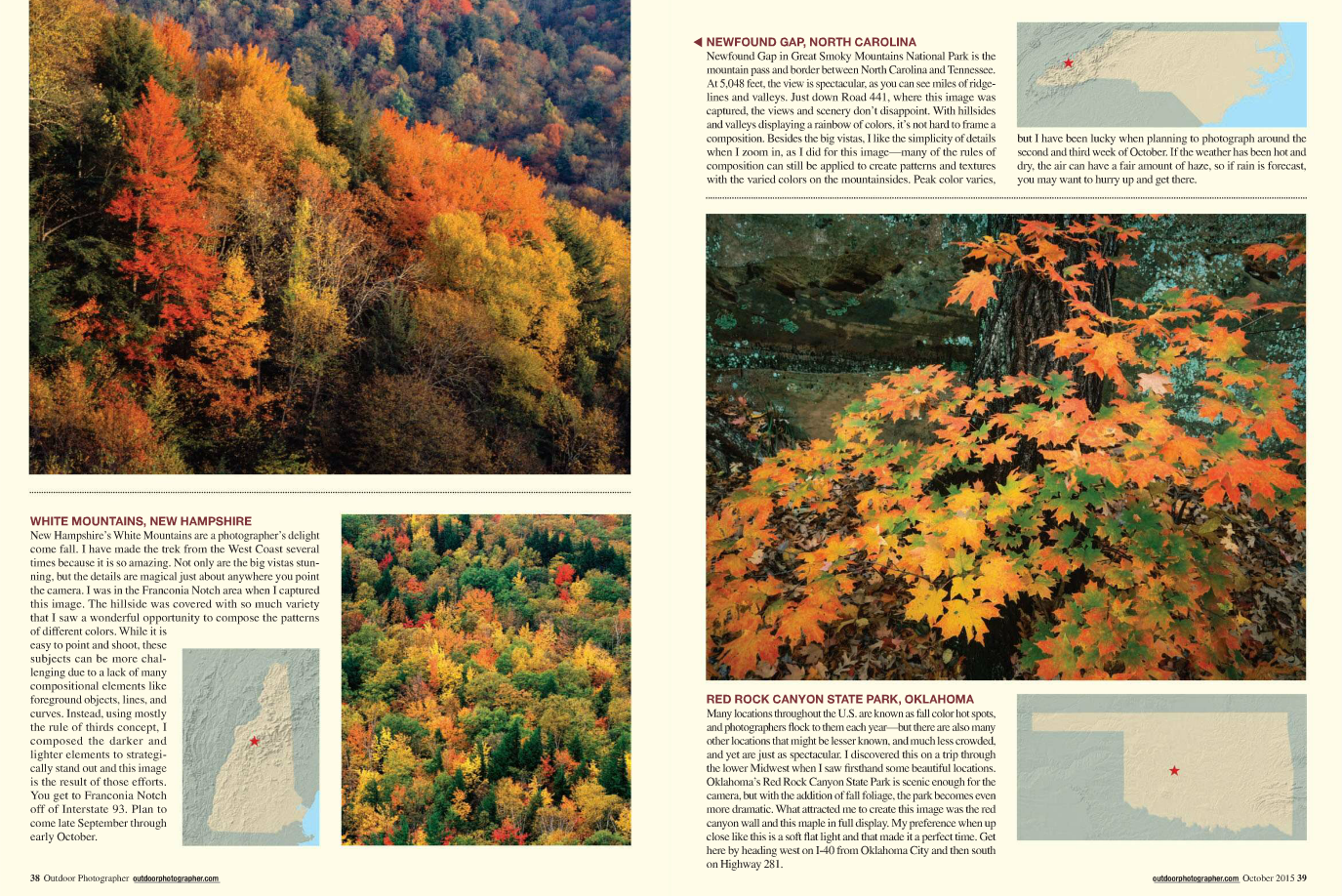 Getting Started
So if this interests you and you wonder how to get started, my suggestion is to blog first as a way to learn writing or even take an online course on writing. For five years I published Pro Nature Photographer which I sold in 2014 (currently undergoing redesign) and this experience lead to several things for me.
First, advertisers bought paid advertising on the blog which generated revenue for me. Second, I actually got several magazine assignments as a result, and third, i became a contributing writer to Currents Magazine, which was a trade journal on nature photography (no longer published). The point here is you gotta start somewhere and a blog is a good start. Eventually all that hard work learning to write can lead to paid gigs, and that is just the beginning.
Getting advice from an established writer or an editor is never a bad idea. I have had an editor proof read for me several times on high profile articles I have written. The point being that you should get started writing now, learn how to write, and seek advice from established writers who will edit your work. 
When it comes to writing for a magazine, my guess is 99.9% of accepted articles result from queries that the writer sends the editor. But that is not always the case. Take the first article I wrote for Outdoor Photographer. It was an assignment from the editor who contacted me and asked if I wanted to write an article on using Flash in nature photography. I gladly accepted, of course. 
How did the editor find me then? I am not actually sure but there are several probable ways. I know several, on a professional and social media level, many of the contributors to the magazine and someone may have mentioned me to the editor. But more likely it came from my incessant promotion of my eBook: Outdoor Flash Photography and I believe that is how he found me by searching.
In the case of this recent article: Fall Color Hot Spots, the writing was not terribly challenging. I sent the editor about 50 shots from which 10 were selected. He requested information about where the location was, how to get there, and my insights to  how I captured the photo I did. 
The reward was of course, a published article with my photos boast about, a nice check (in the mail) and and an invitation to submit more story ideas. 
---
 If you would like to read more about writing for outdoor publications, check out this interview I did with Dave Showalter and the article he wrote for Wilderness Magazine. 
Additional Writing Resources: http://www.right-writing.com/magazine.html 
---
Check out my ebook and online courses at: greatphotographycourses.net and get a FREE nature photography course presentation here.