Every once in a while a cool project or assignment comes along. That is what happened when a client of mine asked me to go photograph at one of the sites of The History Channel's Ax Men TV Reality Show. How could I refuse?
I have photographed logging, the timber industry, and paper manufacturing for companies like Georgia-Pacific, Westwood Corporation, and International Paper, so I am familiar with working in the woods and safety issues.. While I always enjoy getting into the woods with anybody including these guys, the fact that this assignment was a TV reality show certainly raised the 'coolness factor'.
My wife and I however, have a closer connection to the show than this assignment. My wife's family; my mother in laws side in particular, are from Vernonia, Oregon, where this show began. In fact, one of the historic buildings in town is named after my wife's grandfather. The first two seasons I think were exclusively filmed in Vernonia before the production company branched out across North America to film other crews.My wife's uncle was a logger most of his life and so is their son Richard, my wife's cousin. To add even more coolness, Richard (aka Dick) was on the first (five?) seasons of the axmen show as a member of Mike Pihl's logging crew. He's been off the show for a couple years but returns this next season as a member of the Big Gun logging crew which was added to the show this past season.
Getting back to my client, his company is a sponsor of the show so he and I went up to Port Angeles Washington to photograph on site with the Rygaard logging crew.
If you happen to watch the show you will notice that most of the crews featured on the show always have some sort of conflict and in dangerous situations going on. While logging is extremely dangerous as an occupation, I can't help but wonder about the other drama that is part of the show.
Craig and Gabe Rygaard were the nicest guys in the world when I was up there photographing. Pretty much anything I wanted to do I could do as long as I didn't get myself in a dangerous position.
On the show however Craig and Gabe are often at each other's throat. Other crew members hate each other and some have had fist fights. Is that real or is it show business? Well, I am not sure, but when watching the show I often wonder. My wife's uncle, a logger for 25 years, says job sites just don't have that kind of drama.
For the photography, this is photojournalism where you are photographing the action and events as they happen. There is no time to set up lights or pose anybody, at least during the filming part of it. My job though was to photograph the action and in particular the cameraman filming the action.
And here is another ironic twist. The cameraman, Thomas Backer, is a Brooks Institute alumni like I am and one of his instructors is my friend Ralph Clevenger who is an instructor at Brooks Institute.
So Thomas and I had a nice little visit before all the action began. He has had quite an interesting career, so far being cameraman on Ice Road Truckers and Ax Men and since then he's off filming other reality shows.
Here are some pictures from the photo shoot. I did later that day get some posed shots of Craig Rygaard and one picture made the cover of their publication.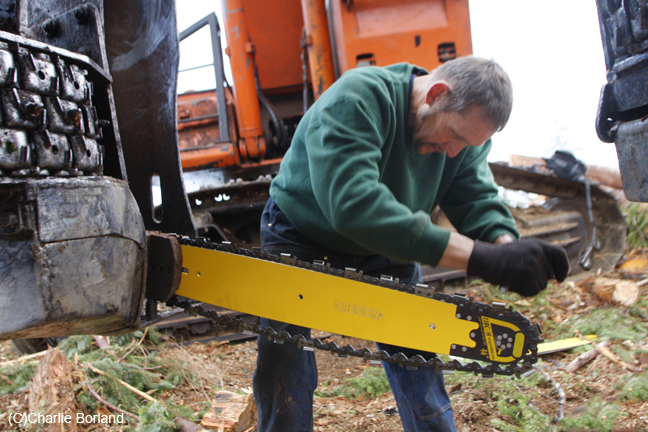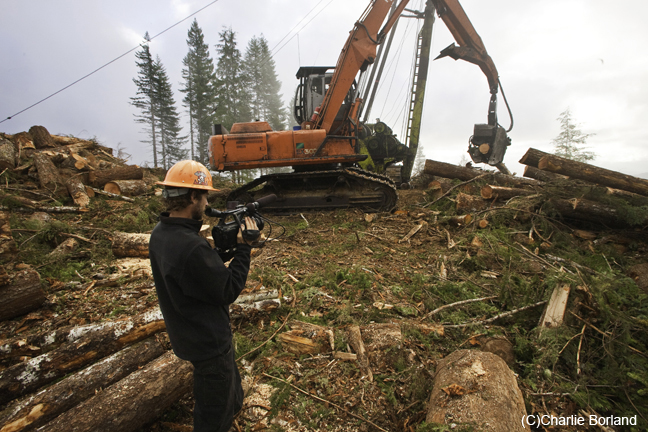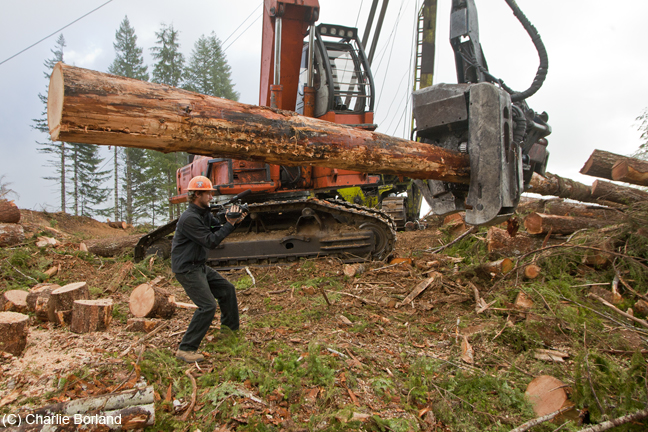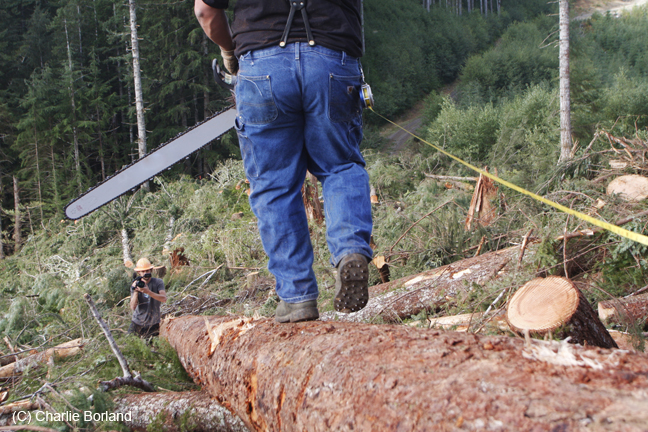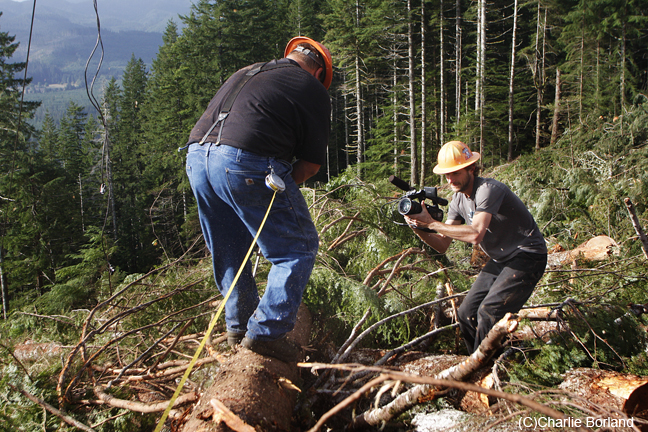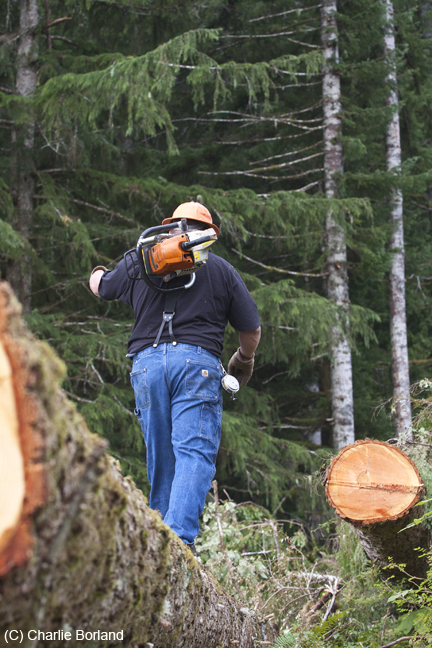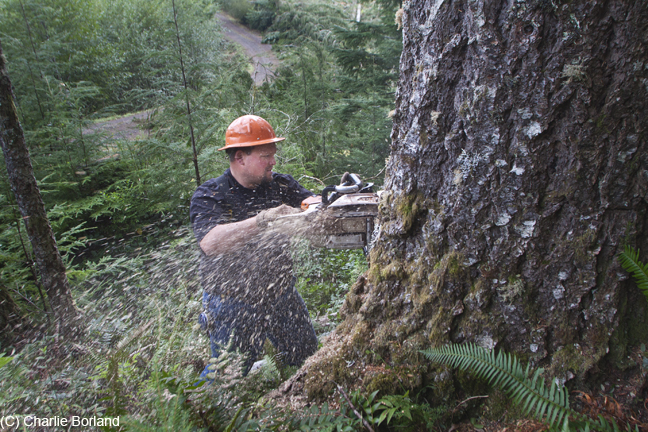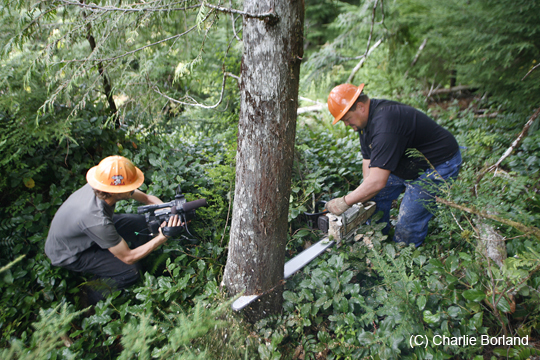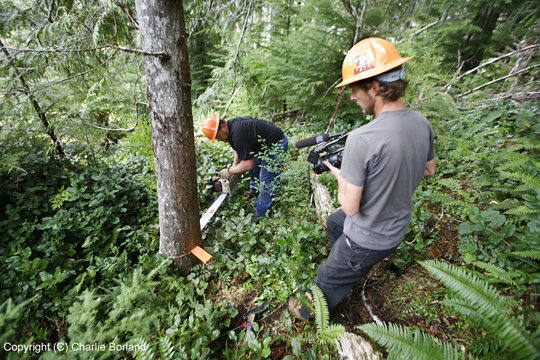 Please leave a comment.