I photographed this image at Red Rock Conservation Area, North of Las Vegas, about 6 weeks ago. I was zipping down the road from Mt. Charleston when I spotted the cactus starting to bloom. I guessed that I was about 1 week to early for full bloom, but I was not going to be here in a week, so I shot anyway.
I used a flash to fill in the shadows on the cactus and that worked great. But since it was 4 pm the light was not that great yet, so when I opened the image in Photoshop it looked like a basic snap. That's where the fun begins. You get started and you never know where you are going in creating. Are these images ever DONE? No, they are abandoned when you are happy with the results.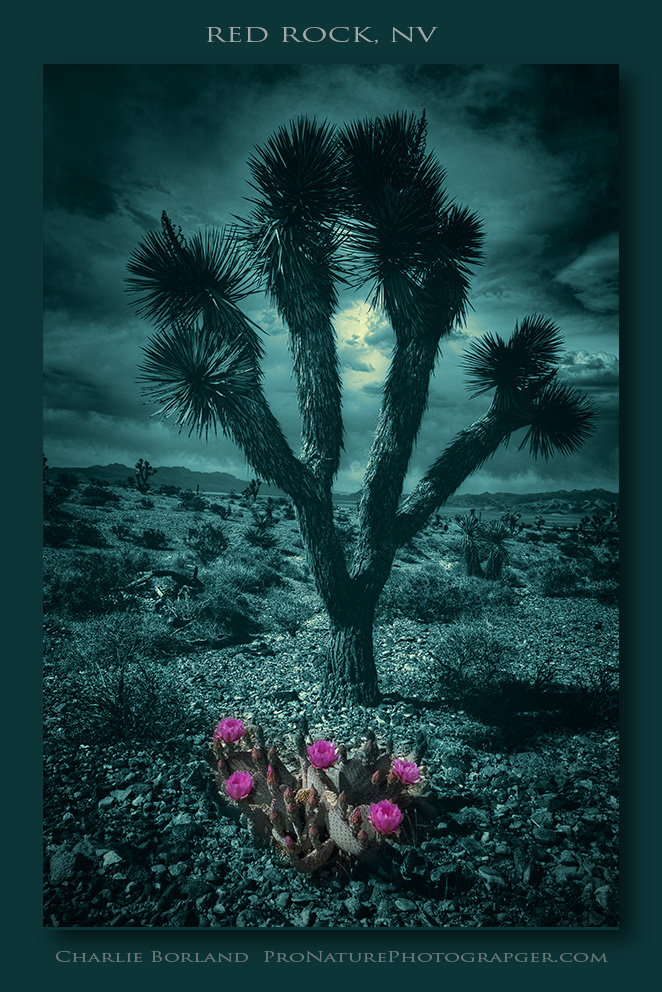 I always bracket exposures so the first thing I did was HDR process it with the only intention to add drama to the clouds. Then I opened Topaz B&W Effects and used the Cerulean set to colorize the image. Once I got here I decided I had what I wanted and subsequently 'abandoned' this image to go start the process all over another. If you want to know about Topaz, here's the link: http://www.topazlabs.com/aff/idevaffiliate.php?id=196
Get my book on Outdoor Flash Photography below…..